Another week has passed. It feels so much darker at the moment and the motivation to move in the morning is getting worse and worse! Don't know if you agreee?
We had a really lazy Saturday (well I still went to the gym and took the gremlin for a walk but apart from that we didn't do much. Played and chilled at home (and did some housework!).
Sunday was fab as we met up with Caroline from Becoming a Stay at Home Mum. Hubbies have been friends for years and we have got to know each other better through blogging. We went to a National Trust place about half way between us called Canon's Ashby. Typical National Trust; gardens and a beautiful house to look around. It was great to have a catch up and the littlies got on well. Definitely on to repeat before Christmas.
I always have to take the little monster food shopping on a Monday and she's a good girl and has a sleep after lunch.  Usually I spend an age on my blog and chatting for the full time on Facebook but I managed to do a full scrapbook page whilst she slept. A post is to follow. Haven't done this in ages and I must do again. My friend came over with her munchkin later and the girls had some fun playing (and making us laugh) whilst we caught up and drank tea.
I worked as usual on Tuesday and woke to pouring rain on Wednesday. I met my work colleague and one of her girls. We looked at the Christmas stuff in our local garden centre and I am now SO EXCITED!! They had Christmas music and everything. We enjoyed a cuppa and a teacake and then took the girls to Tesco where they basically ran riot whilst we bought them matching coats. Was fun. Wednesday is my pole class and I had a great session as was the only one! Basically my instructor gave me a 1:1 class and it was great. Mastered some tricky stuff.
I worked as usual at the end of the week.The gremlin is being a monster when she gets home. Obsessed with her Dummy and usually not interested in cuddles so I decided a bit of throwing her about on Thursday would be fun!
My Mum and step-Dad are having the gremlin as we speak so hubby and I can start on some serious house sorting. All I care about is some sleep on Sunday morning. Hopefully!! We will have missed the clocks going back but I'm sure will be hell on Monday!
Until next time!!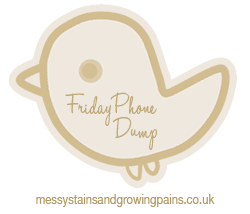 (Visited 124 times, 1 visits today)